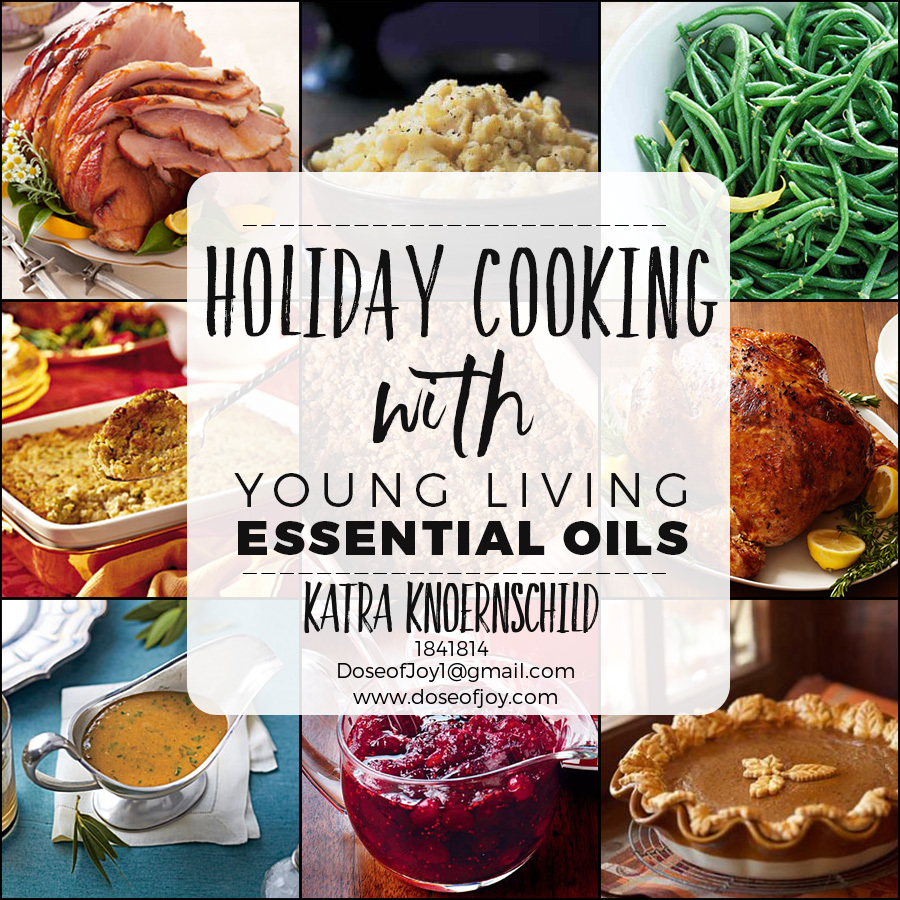 I love using essential oils while cooking. Whether I'm making a morning protein shake, cooking up vegetables, Italian foods and even in a marinades of all types. Essential oils are a great way to enhance the flavor of your foods, and even come in handy when you run out of a favorite spice.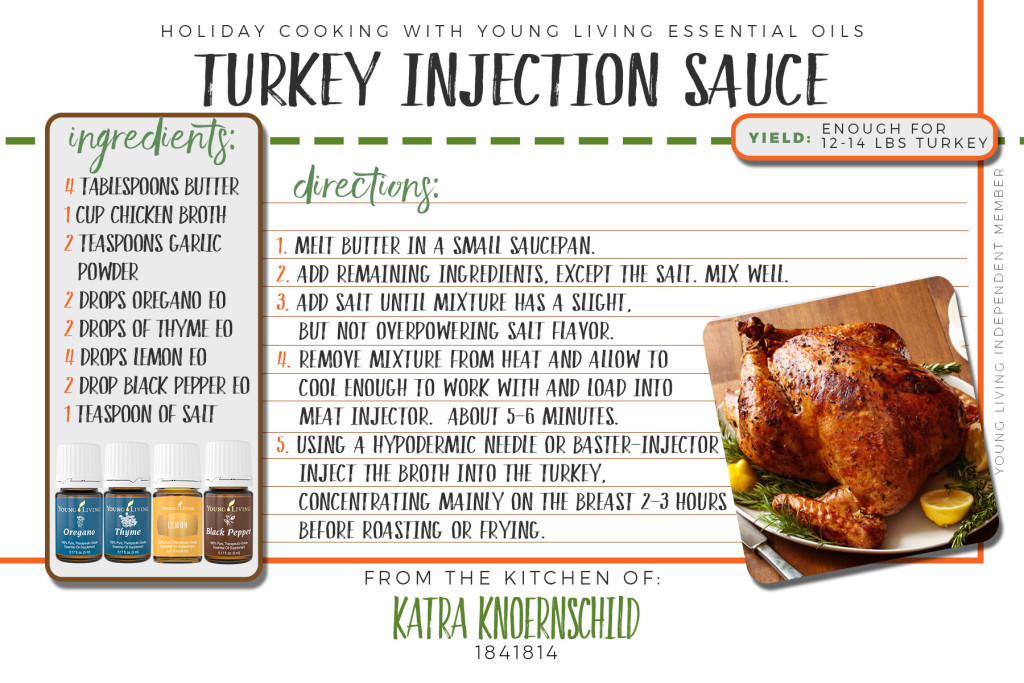 Turkey Injection Sauce
Let's talk Turkey! Turkey is our second main course here at home, and usually only made when we have guests for the holidays. But I know this is the showstopper for most families over Thanksgiving. I hope someone decides to give this a try, and reports back with their thoughts, because I think this will be a real winner. I'm all about brining, basting, injecting, and filling the turkey with a bounty of fragrant lemons, apples, herbs, onions and garlic to boost the flavor, and keep the bird moist. I don't use stuffing in my turkey, because I feel that it draws some of the juice and flavor out of the bird. So this method would totally be up my alley.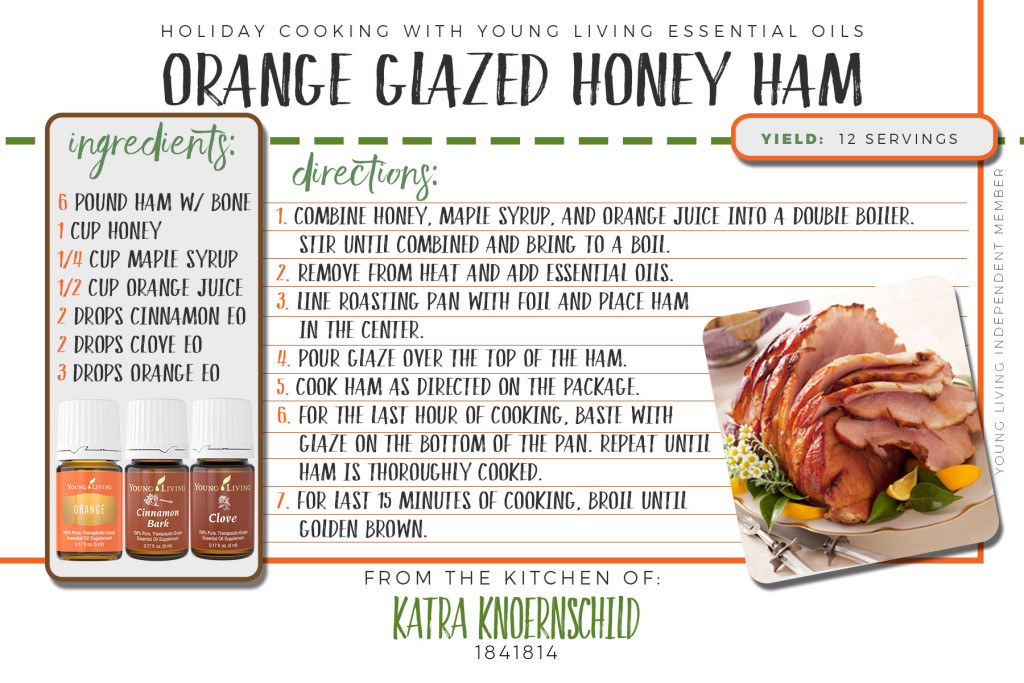 Orange Glazed Honey Ham
This year we opted to go with Beef Wellington for Thanksgiving. However, Ham is usually the preferred thanksgiving main course in our home, and will likely be made for Christmas this year. I love the smell, taste, and caramelization you get from combining orange with cloves and cinnamon. These three essential oils will definitely be 'essential' for our next ham.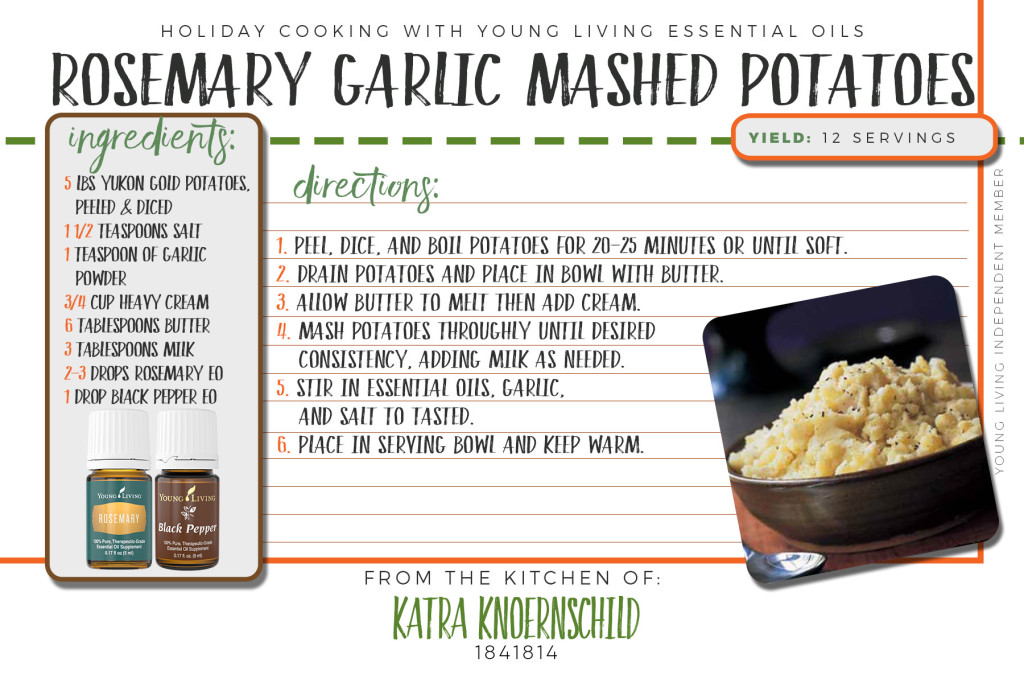 Rosemary Garlic Mashed Potatoes
Mashed potatoes are one of my husband's favorite side dishes. I seem to try a new style every time I make them. I'm going to add this to my always growing list of options. They sound perfect for a festive meal.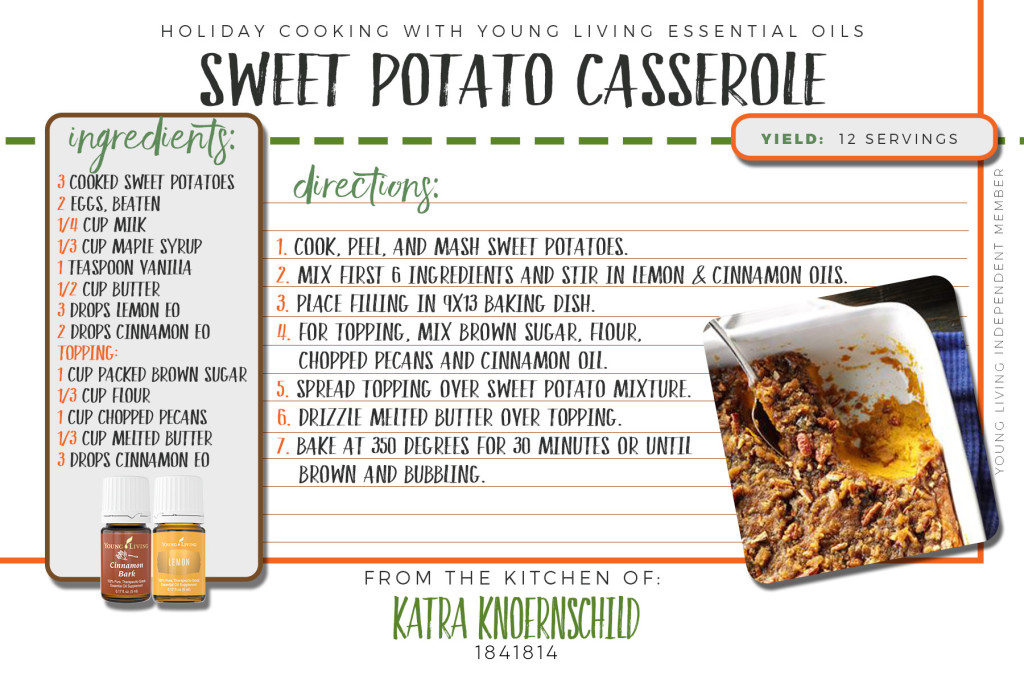 Sweet Potato Casserole
Sweet Potato Lovers, be sure to check this recipe out. It combines the warming spice of Cinnamon Bark with the brightness of Lemon.
A little note on Lemon, IMO it's one of the most versatile essential oils to use in cooking. I always have back-up of this. A couple drops in my morning protein shake, added to lightly steamed or sauteed green vegetables, cooking with poultry, and my favorite – in deserts. It's an all around go-to oil that does a great job of lifting the flavor of whatever you add it to.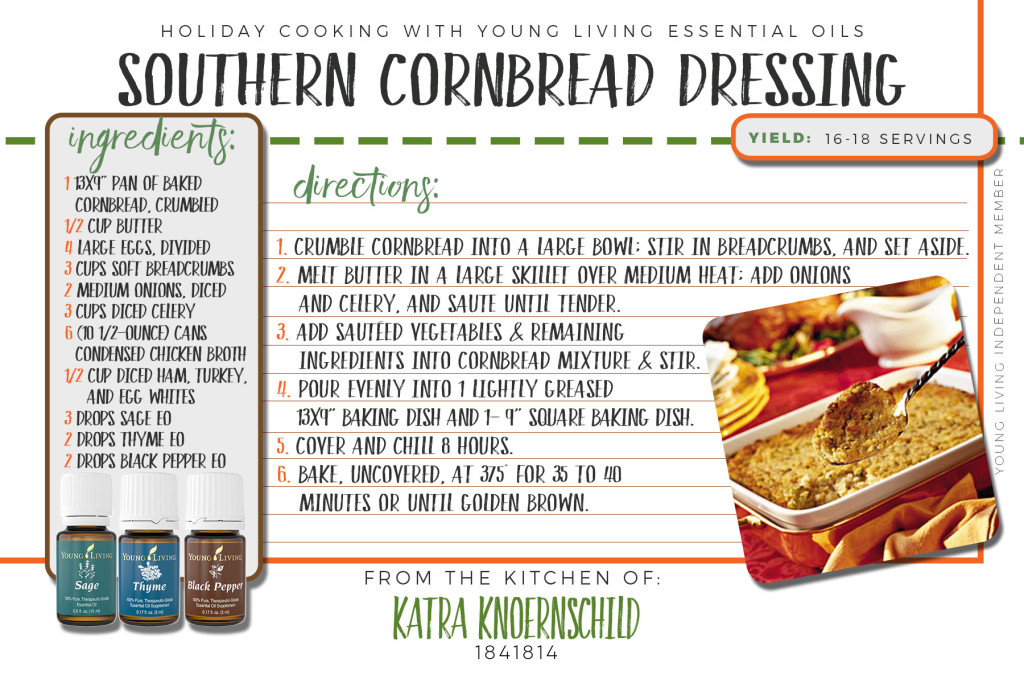 Southern Corn Bread Stuffing
Stuffing, this is seriously my downfall. I love all types of stuffing, and have yet to try one I didn't like. However, I remember how my mom was always very particular that it had to be made how grandma prepared it. I get it, stuffing recipes – like Aunt Bettie's pie crust, are often handed down through the generations. But if you're still coming up with "your recipe", give the one below a try. You can also substitute the "like ingredients" in your stuffing recipe with the essential oils below.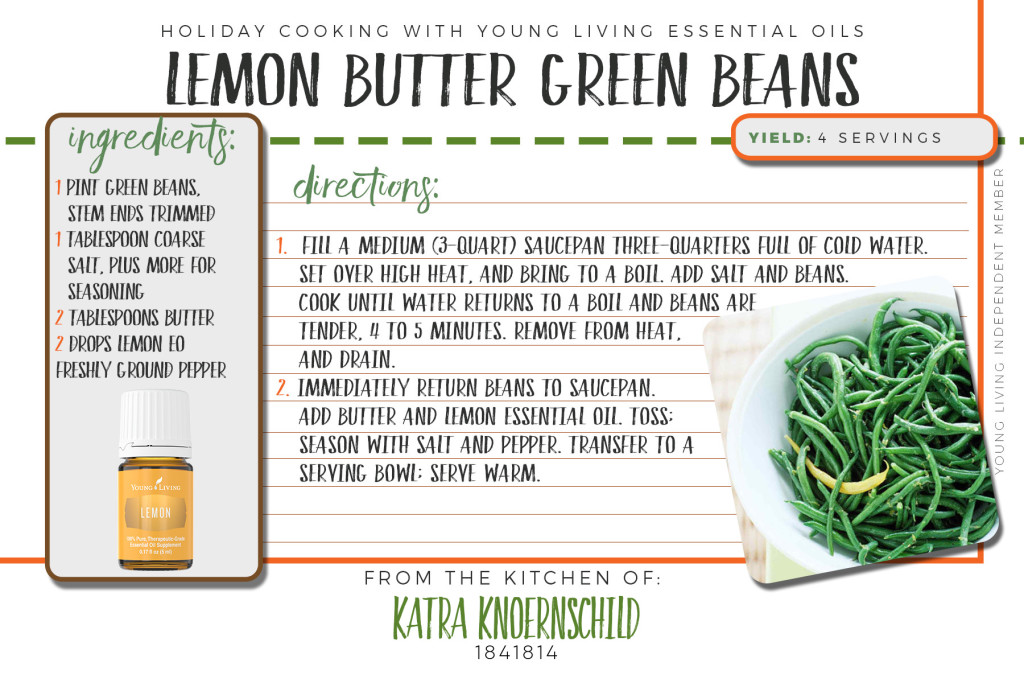 Lemon Butter Green Beans
This is actually one of my favorite ways to make green beans. The lemon is the perfect compliment, and also make the beans the perfect compliment to any poultry or fish meal.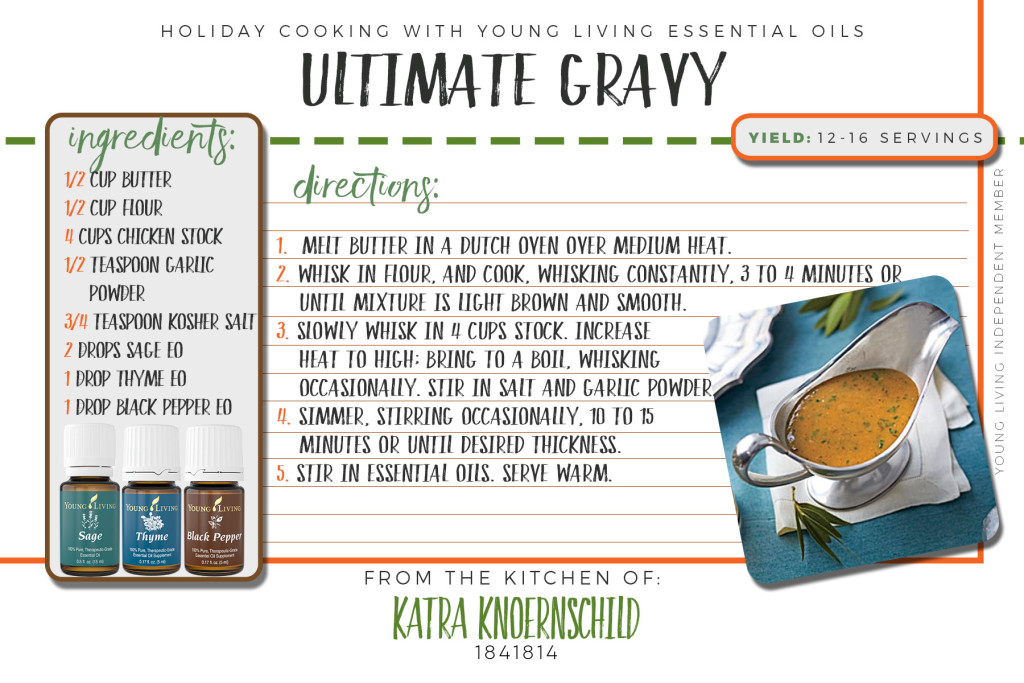 The Ultimate Gravy
Good Gravy, do I love gravy! I rarely make rich and heavy foods throughout the year, but come holiday time – all bets are off. Gravy is good on everything thanksgiving, well – maybe not pie, and this recipe sounds like a powerhouse of flavor. Yum!!!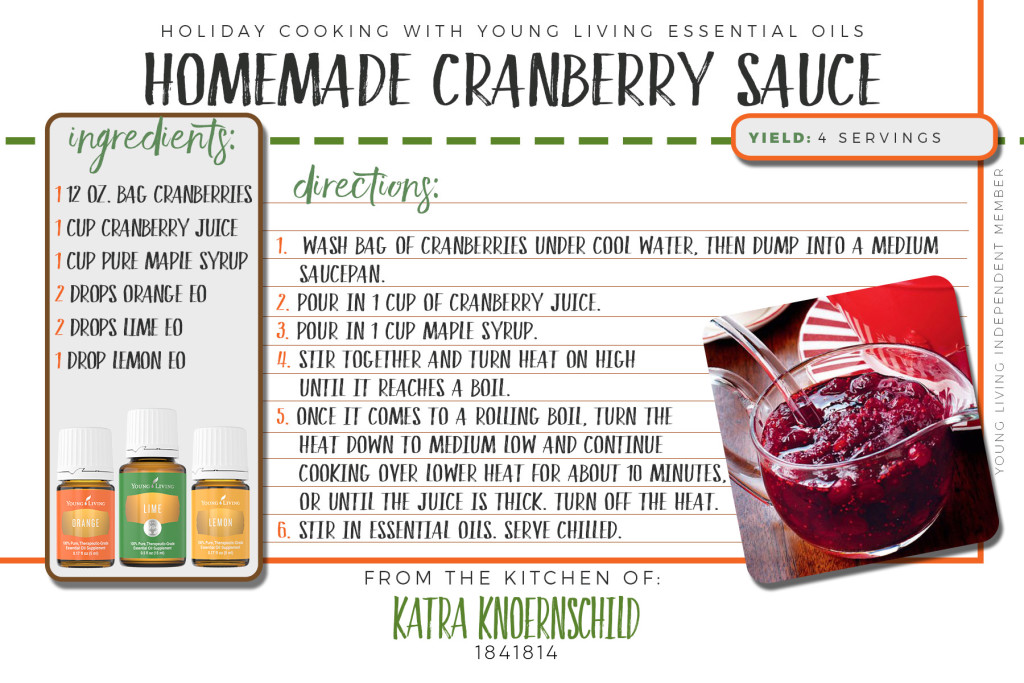 Homemade Cranberry Sauce
A new twist on an old favorite. I LOVE Homemade cranberry sauce. Don't serve it from the can, put the time in and make it awesome. This recipe might even cut a few steps out of the work, for you.
Pumpkin Pie
Pumpkin Pie. Wow, that brings back memories. My cousins and I used to challenge each other on how fast we could eat it, like it was a contest. I remember one year, my younger cousin put an entire piece in his mouth at once. Hands down, he was the winner. I'll never forget that.
Anyway, check out the warm and spicy essential oils to use in this recipe: Cinnamon Bark, Nutmeg, Clove & Ginger. All the amazing flavors you expect in a good pumpkin pie. Give it a try this year, and let us know what you think.

Spicy Cinnamon Toothpicks & More holiday recipes from Young Living.
Be sure to check out this recipe and more on Young Living's website. If you need help ordering, or getting started, feel free to email me at: doseofjoy1@gmail.com, or visit http://yl.pe/x99 to enroll as a wholesale member today.
~ Stay connected by becoming a fan of the Daily Dose of Joy on Facebook.
~ Read more about our products, and sign-up for my newsletter here: http://doseofjoy.marketingscents.com/
~ Follow my daily adventures on Instagram @katrak13
~ Purchase your Premium Starter Kit at this link: http://yl.pe/x99
—
Katra Knoernschild | Distributor #1841814
Dose of Joy | Young Living Essential Oils
email: doseofjoy1@gmail.com
Facebook: Daily Dose of Joy