Welcome Back! If you're just joining us, it's Day 3 in our Getting to know your New Premium Starter Kit Challenge.

 
Today we are highlighting the King of essential oils, Frankincense (Boswellia carterii).
Frankincense essential oil includes the naturally occurring constituent boswellic acid, and has a woodsy, warm, balsamic aroma. Diffuse Frankincense during meditation for grounding and purpose. Applying this oil topically may help smooth the appearance of healthy-looking skin, and is excellent to use for massage after activity.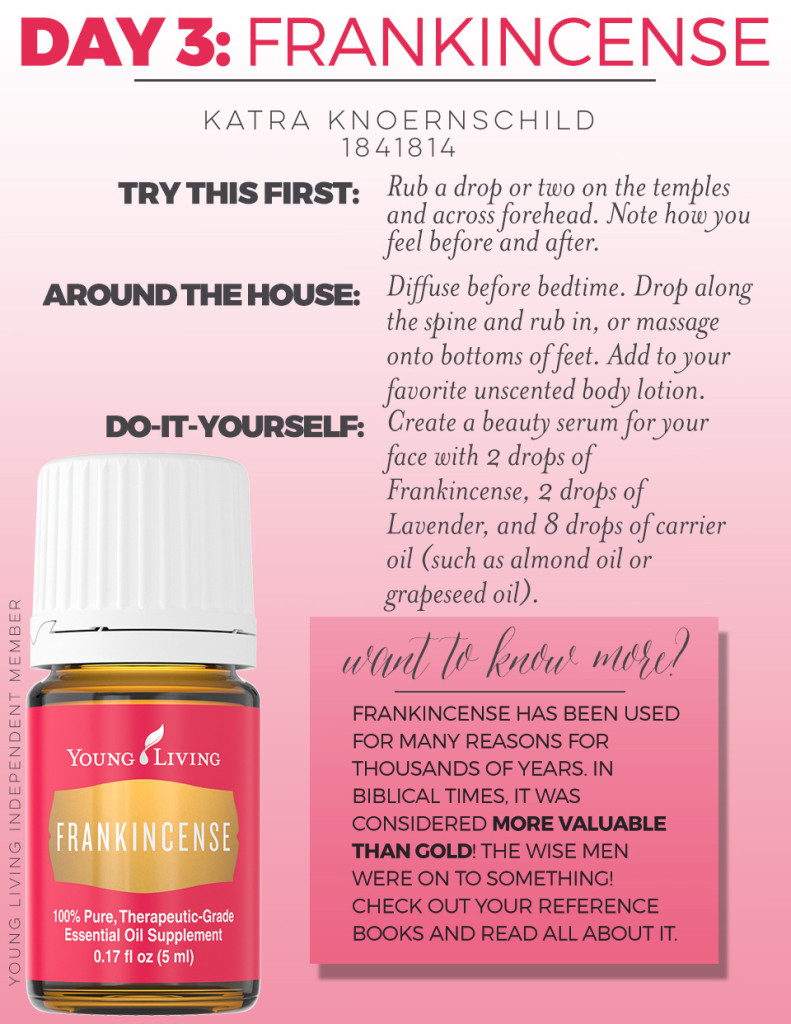 Additional References & Resources*
Product Tips
Inhale frankincense essential oil after lunch to spiritually refocus.
Rub frankincense essential oil on the bottom of your feet to help alleviate nervous energy.
I always love sharing this picture of my oldest son, inhaling his oils. A drop in the hands, rubbed together – with nice deep, belly breaths. Just enjoy this oil – every part of it. It's amazing.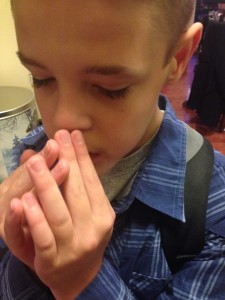 On Young Living's website, Frankincense is also listed as a product that can be used to refine your skin. See a list of targeted support below.
Purge chemicals from your beauty routine and rediscover your natural glow. An ancient skin care secret, essential oils can help promote a clear-looking complexion, soften the appearance of signs of aging, and nurture healthy-looking hair. Using only natural ingredients, these advanced skin and hair care solutions make it easy to enjoy the beautiful benefits of essential oils every day.
 Thank you for tuning in today. I look forward to sharing more tomorrow, when we introduce our 4th oil on the list.  It's sure to wake you up for the weekend!