Day 5: Getting to know Copaiba Essential Oil
Welcome to Day 5 in our Premium Starter Kit Challenge. Tonight we are sharing information on Copaiba (oleoresin) (Copaifera officinalis)† wood oil.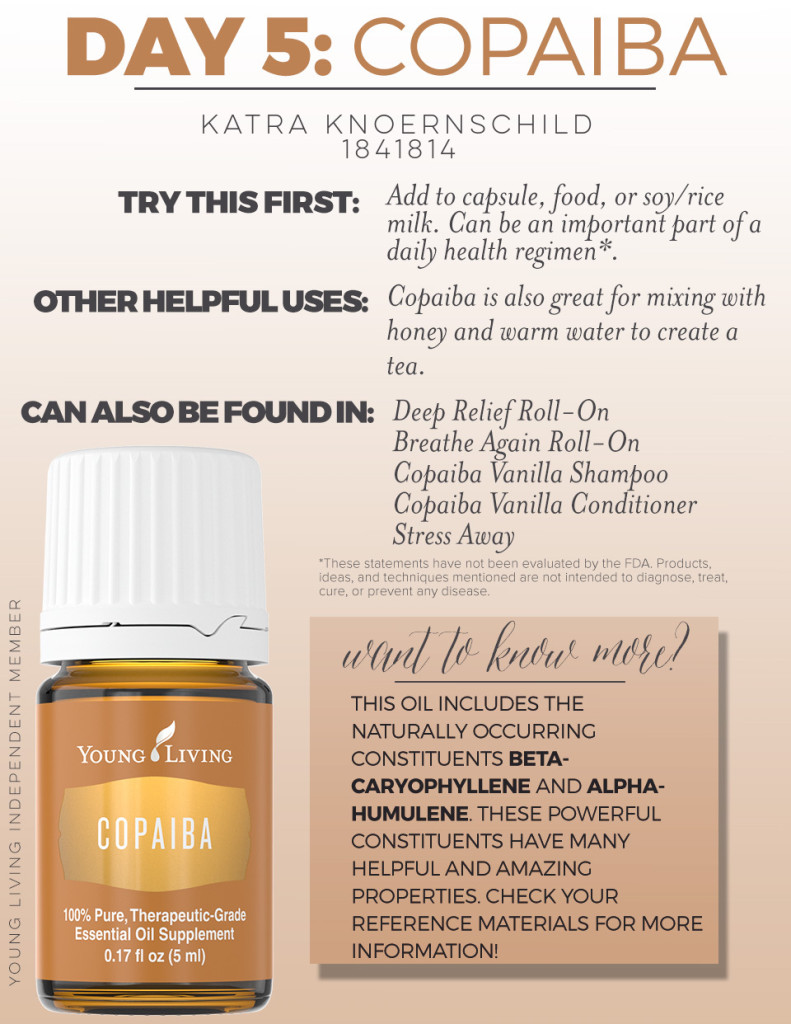 Capsules
You might be wondering, "Where can I get capsules, what do they look like, or what are they made of?"
Young Living offers Clear Vegetable Capsules for sale through their website. They are also readily available in the health supplement aisle at your local health food store.
Look for the 00 size. These will be easier to fill, and swallow.
I use fractionated coconut oil (V6 Oil) or Grapeseed oil, to top off the void in the capsule, after I've added the drops.
I already know what you're thinking, do I need all those fancy supplies?
The short answer is No.
If you don't have an eye dropper, you don't need one – I rarely use one (See the second example below).
You can also hold the pills in your hand as you make them.
I like to make up a week at a time, and keep them in the freezer in a glass bowl.
If you find yourself making several/day, you may want to consider buying the Capsule Machine or similar product to make the process go quicker.
Here is a link to a video showing how the Capsule Machine works with powdered herbs. For liquid, you will drop over each hole as shown in the examples below.
Copaiba is part of my daily supplement regimen. I encourage you to research it's benefits further by reading your Essential Oil Reference Guide.
Education is a big part of Essential Oil use. Over the years, much of the wisdom gained from the use of plants and herbs has been lost from our everyday conversation. Reference guides should be your first point of reference when evaluating options for your personal needs. In the tabs at of the my home page, I include links to additional references for research purposes. Also remember to review some of the recent studies being done on Essential Oils through PubMed. Great information to glean.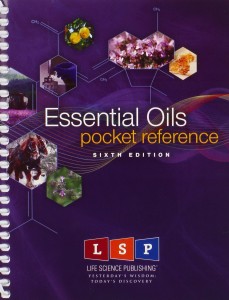 If you don't currently have an essential oils reference guide, there are a couple options I recommend, the first is one I would recommend is published by Life Science Publishing. This will have the most up to date information, and was written with insight from Young Living's Founder, D. Gary Young.
The second option I recommend is the Reference Guide for Essential Oils produced by Abundant Health. This is also a great alternative. Abundant Health also offers an App for IOS & Android users, but I do find the books more in depth.
Purchase Your Premium Starter Kit Today, and Get A Free Reference Guide as a gift!
September Promotion: Become a Wholesale Member of Young Living and the Dose of Joy Team by purchasing a Premium Starter Kit. Below I've included two flyers on everything you receive in your kit, as well as options for those that may wish to consider alternatives to the primary kit.
As a Young Living Wholesale member, you gain access to a 24% discount on future oil purchases. You will also have the option to add our Essential Rewards Program that earns points towards future purchases. And should you choose, you'll be eligible to earn commissions and bonuses as a Young Living Independent Distributor.
For new members to the Dose of Joy Team, I will also be sending out the Essential Oils Pocket Reference Guide, highlighted above, as a free gift from me to kick start your Essential Oils Education, and help you get the most out of your Premium Starter Kit.  Visit http://yl.pe/x99 to get started today (Enroller/Sponsor: #1841814)
Thank you for joining us today, and stay tuned tomorrow as we introduce the 6th oil in the Premium Starter Kit.
*These statements have not been evaluated by the Food and Drug Administration. Young Living Products are not intended to diagnose, treat, cure, or prevent any disease.