Welcome to Day 8: PanAway Essential Oil Blend 
PanAway® has a stimulating aroma and is a popular and original combination of Wintergreen, Helichrysum, Clove, and Peppermint essential oils formulated by D. Gary Young. This blend is ideal to apply topically after exercise, and supports the appearance of healthy skin coloration. The essential oils in PanAway include naturally occurring constituents methyl salicylate, gamma-curcumene, menthol, and eugenol.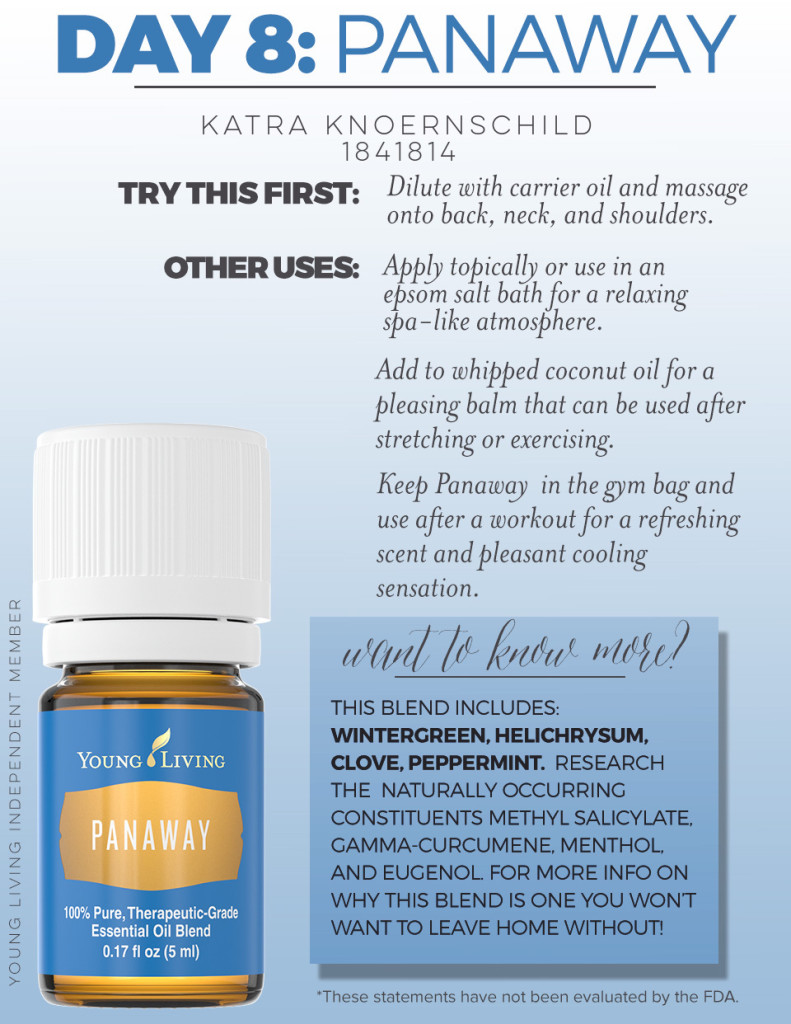 This oil has been amazing for me! I apply it on my legs, feet, back – it's perfect after a long day shopping or exercise, even when you first get up in the morning after a restless night.
My #1 Tip for this oil, combine 10 drops, plus 3 drops of peppermint and 3 drops of Copaiba from your starter kit in 2-4oz of whipped coconut oil. This will really help you get the most out of this oil, especially if you're trying to cover a larger area, like your calves or thigh area.  You can add more oil as you increase the amount of coconut, but please test this first on your own skin to see what works best for your needs.
Whipped Coconut Oil Recipe
1 cup of Virgin Coconut oil* (can sub Refined or blend of Virgin/Refined Coconut Oil)
1/4 teaspoon Vitamin E Oil
Approximately 15 drops Essential Oil of choice
4oz glass jar (or non-reactive jar)
Stand Mixer or hand mixer
*Optional: to make a thicker, creamier blend, add 1/4 cup Unrefined Shea Butter during mixing. You will need to adjust the oils as necessary.
Directions:
Using a stand mixer, or hand mixer, whip coconut oil and vitamin e until soft peeks begin to form. Add essential oils, and return to blender until well mixed. You can also fold the oils in, but I prefer mixing. Spoon contents in to jar. This may need to set in the fridge for 3-5min if it's too melted, but once set it can be easily stored in a dark, dry and cool place for use. I typically keep ours in the medicine cabinet and where lotions or creams are present.
Epsom Salt Bath Recipe
1 cup Epsom Salts
10 drops Essential Oil of choice
Mix oils in to salt, and store in airtight non-reactive container (glass is preferred, but stainless tins also work well).
Enjoy!