Welcome Back to Day 6: R.C. Essential Oil Blend 
I hope everyone had a great Labor Day Weekend. We had a great time enjoying the company of friends and neighbors for our annual block party. It's always a fun-filled event, for the kids and adults, alike.  Unfortunately, it was also the hottest day of the year.  I kept well hydrated, and added a bit of lemon to my water to boost the flavor. In addition, a drop of peppermint on the back of my neck helped keep me cool, and pick up on the light breeze in the air.
The next morning through, it was my good friend, R.C., at my side. Being in the heat all day, talking over music, and breathing in the smell of dry cut grass just got the best of me.
R.C.™ is an invigorating blend of pure essential oils – including Spruce, Cypress and three varieties of eucalyptus that is relaxing when used in massage. This carefully crafted blend helps support a healthy respiratory system.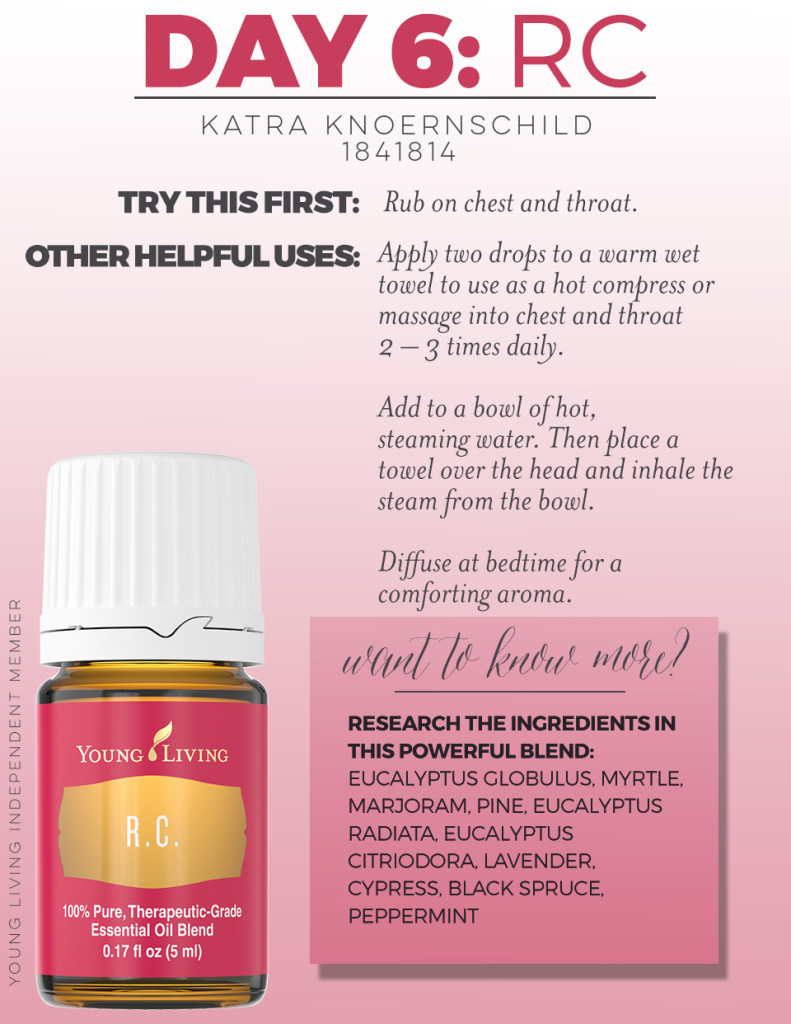 First, what is an essential oil blend?
An essential oil blend is a proprietary blend of oils, designed for targeted to wellness. They represent the joining of wisdom and years of experience and study on plant oils. Young living's R.C. blend is a 100% Pure, Therapeutic-Grade Essential Oil blend, backed by our Seed to Seal promise.
What do I like most about using blends?
I find blends to be a cost-effective and convenient way of maintaining a more targeted, healthy support that my body seeks, without having to invest in several individual oils. I also know from use, that this blend has been highly effective not only for me, but for my son.  Blends make it easy to use, easy to apply – and easy to add to carrier oils.
Read more about R.C. in one of the recommended Essential Oil Reference Guides, or check out studies on the individual oils to understand more about the powerful properties of this oil.
Additional Recipes & Uses: Topical & Aromatic
Another favorite combination for me is adding one drop of lavender with one drop of R.C., rubbing it on my chest and touching the tip of my nose.
Rub R.C. on your feet or chest before your daily workout, to uplift and inspire you.
Diffuse R.C. to create a comforting aroma in your room.
Add a couple of drops to V6 carrier oil to make a perfect compliment to your routine massage.
Consider adding 7 drops of R.C. to 2oz of Salve or Coconut Oil. It will make rubbing on the chest or bottom of the feet easier, and help spread out the oils. You can store the pre-made salve in a dark glass or non-reactive container in a cool dry area for up to 6-8mo.
Personal tip: When I need a little boost, I add a couple extra drops of Eucalyptus Radiata and Peppermint Essential Oils to my R.C. salve mix. Perfect on the bottom of my feet.
Aromatherapy Shower Bombs
Ingredients:
1 cup Baking Soda
1/4 cup to 1/3 cup water (depending on your humidity)
5-7 drops of R.C. Essential Oil Blend* (may use other oils, as desired. Please read labels first.)
Instructions:
Add the baking soda to a bowl and slowly add the water while stirring constantly.  Add just enough water (between 1/4 and 1/3 cup of water) to make a thick paste.
Add your 

essential 

oils

 and mix together.
Test a heaping spoonful of mix to see if it holds it's shape when you squeeze it in your hand. It should feel more dry than wet, but still stay in form.
Do not add too much water.  If you do…just add a little more baking soda to the mix.
Fill your molds with paste. Silicone flexible molds are recommended. Pack the mix in tightly.  Let dry completely (this is critical).  It can take 12-36 hours, depending on the humidity level in your home. You can also bake them in a low temperature oven (if your mold is oven safe) at 200 degrees for 30 to 45 minutes.  Let cool.
Carefully remove from molds and store in an air tight container.
Education, Research & Essential Oil Use
I want to repeat something I shared on the last post, because it can't be stressed enough. Education is a major part of Essential Oil use. Over the years, much of the wisdom gained from the use of plants and herbs has been lost from our everyday conversation. Reference guides should be your first point of reference when evaluating options for your personal needs. In the tabs at of the my home page, I include links to additional references for research purposes. Also remember to review some of the recent studies being done on Essential Oils through PubMed. Great information to glean.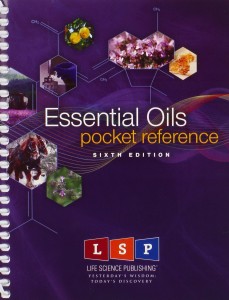 If you don't currently have an essential oils reference guide, there are a couple options I recommend, the first is one I would recommend is published by Life Science Publishing. This will have the most up to date information, and was written with insight from Young Living's Founder, D. Gary Young.
The second option I recommend is the Reference Guide for Essential Oils produced by Abundant Health. This is also a great alternative. Abundant Health also offers an App for IOS & Android users, but I do find the books more in depth.
Purchase Your Premium Starter Kit Today, and Receive A Free Reference Guide as a gift!
Become a Wholesale Member of Young Living and the Dose of Joy Team this month by purchasing a Premium Starter Kit, today. In addition to gaining access to discounts on future Essential Oil and Young Living Product Purchases, I will send each new member to my team, a copy of the Essential Oils Pocket Reference Guide. This is the same guide highlighted above, that will help you kickstart your Essential Oils Education, and enable you to get the most out of your Premium Starter Kit.  Visit http://yl.pe/x99 to get started today (Enroller/Sponsor: #1841814)
If you are interested in sharing Young Living with friends and family, or having a career as an Independent Distributor, visit the following link for more information on our Compensation Plan. Every wholesale member is eligible to earn, but selling is not required.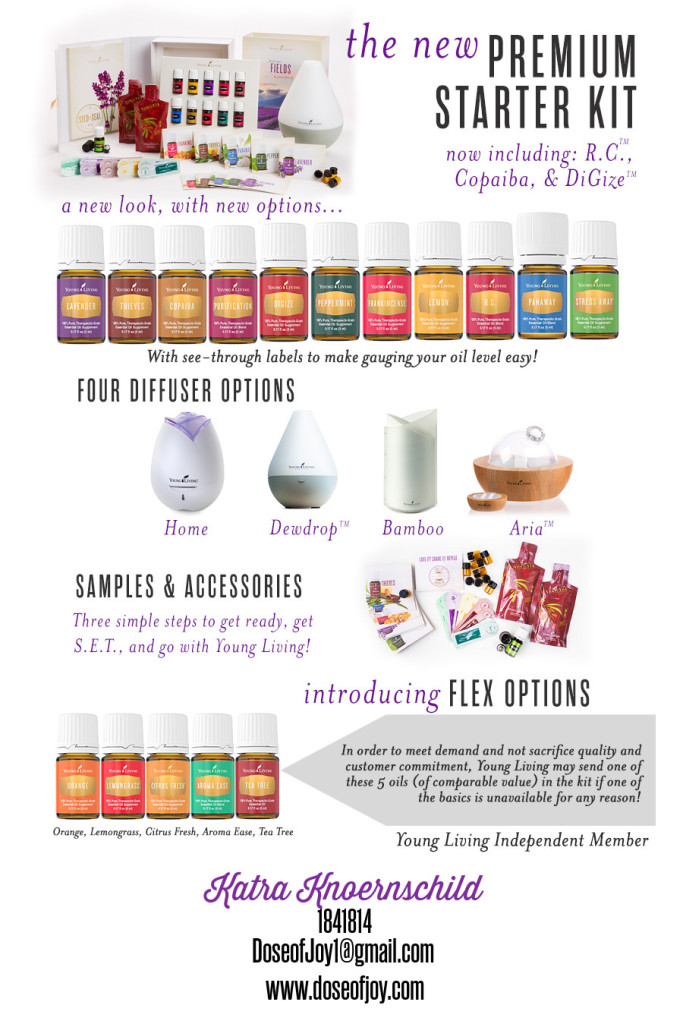 ~ Stay connected by becoming a fan of the Daily Dose of Joy on Facebook.
~ Read more about our products, and sign-up for my newsletter here: http://doseofjoy.marketingscents.com/
~ Follow my daily adventures on Instagram @katrak13
~ Purchase your Premium Starter Kit at this link: http://yl.pe/x99
Tune in tomorrow, for installment #7 of our Premium Starter Kit Challenge.
—
Katra Knoernschild | Distributor #1841814
Dose of Joy | Young Living Essential Oils
email: doseofjoy1@gmail.com
Facebook: Daily Dose of Joy