Welcome to Day 7: Purification Essential Oil Blend 
14 days makes for a long challenge series. I want to take a moment to thank everyone that has tuned in with us so far. I'm going to keep tonight a little shorter, but ask that if you have time, please go back and check out the posts from prior days. Now on to the Oils!
Purification® Essential Oil Blend helps freshen the air and eliminate odors with its unique combination of Citronella, Lemongrass, Lavandin, Rosemary, Tea Tree, and Myrtle essential oils, and includes naturally occurring compounds cineol, neral, and geranial.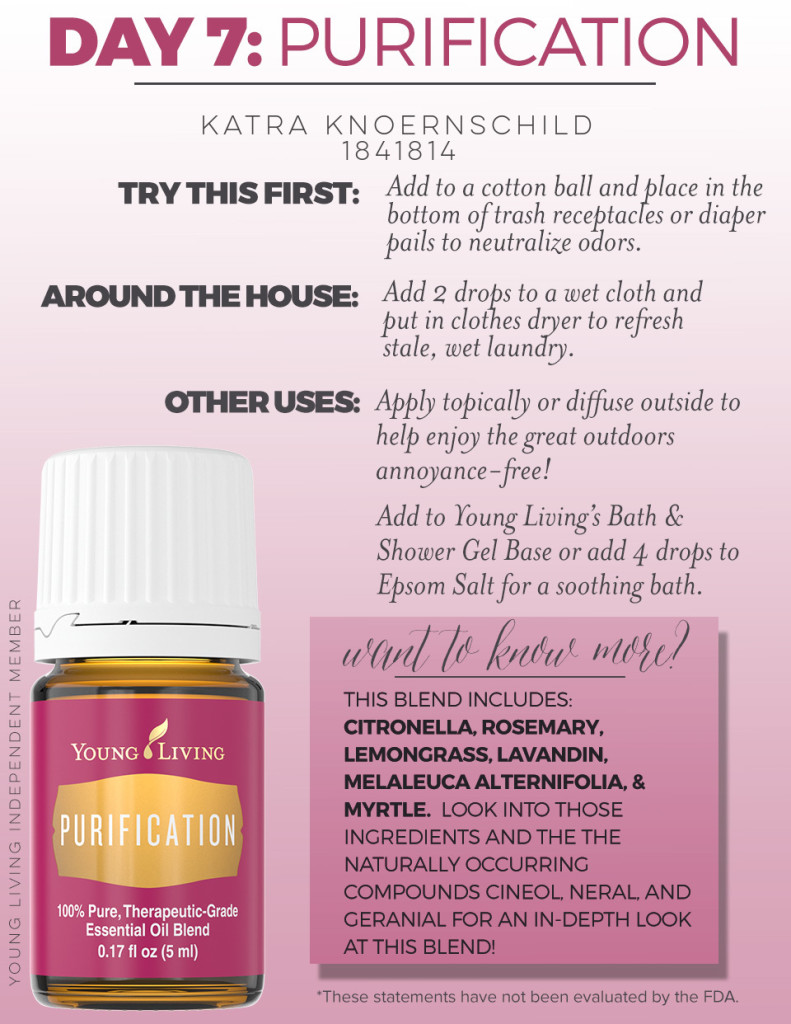 More Product Tips
Add a couple drops of Purification essential oil blend to shoes to help neutralize odors.
Diffuse Purification essential oil blend to dispel unpleasant pet odors and clear the air of impurities.
Diffuse or place 5 drops in 1/2 cup of baking soda (in a glass jar), and set in the laundry room or near sports gear, where musty smells can collect and linger.
Mix 5 drops of Purification with 5 drops of Lavender with 1tsp of witch hazel or vodka, and top off the rest of the 2oz glass spray bottle with distilled water. This combination makes a fresh, calming room spray while keeping odors at bay.
Add Purification oil to Animal Scents™ products to moisturize skin and improve the appearance for healthy looking skin or apply topically to enjoy the outdoors annoyance free.
Ingredients
Cymbopogon nardus† (Citronella) oil, Rosmarinus officinalis† (Rosemary) leaf oil, Cymbopogon flexuosus† (Lemongrass) oil, Melaleuca alternifolia† (Tea tree) leaf oil, Lavandula hybrida† (Lavandin) oil, Myrtus communis† (Myrtle) oil
†100% pure, therapeutic-grade essential oil
Thank you for tuning in tonight. See, I promised I would keep it short. Tomorrow we will be highlighting #8 in our series, it's an oil I cannot go a day without. I can't wait to share a couple tips on how I use it.
~ Stay connected by becoming a fan of the Daily Dose of Joy on Facebook.
~ Read more about our products, and sign-up for my newsletter here: http://doseofjoy.marketingscents.com/
~ Follow my daily adventures on Instagram @katrak13
~ Purchase your Premium Starter Kit at this link: http://yl.pe/x99
—
Katra Knoernschild | Distributor #1841814
Dose of Joy | Young Living Essential Oils
email: doseofjoy1@gmail.com
Facebook: Daily Dose of Joy