This past weekend I was invited to a team educational workshop, where Pamela Hunter shared how she implements the 6 steps in her new book, "Rise & Shine: 6 Master Steps to Get Moving".  I posted an Amazon link in the right column, so that you can check it out.  The book is incredible, and if ever you get the chance to take a workshop with Pam, I highly encourage it.  You can see the available list of events at our team site, Joyful Healing Oils.  Be sure to mention that Katra at Dose Of Joy referred you.
So, back to the stinky business of dirty laundry. I had to start with something pleasant, because Laundry is just gross, right? I have several friends that have been making their own Laundry Detergent for a while, and curiosity finally got the best of me.
I know, I know… My not-so-crunchy friends are probably thinking, Katra – seriously?! But honestly, I'm here to tell you, I made probably close to a years worth of laundry soap in 10min for around $25. That's right budget busters – TWENTY-FIVE DOLLARS! See ya later Gain!  Add in the $20 for 6 Wool Dryer Balls, and we bid our fair wells to Downy, too.  I'm probably saving over $200/year on such a little change.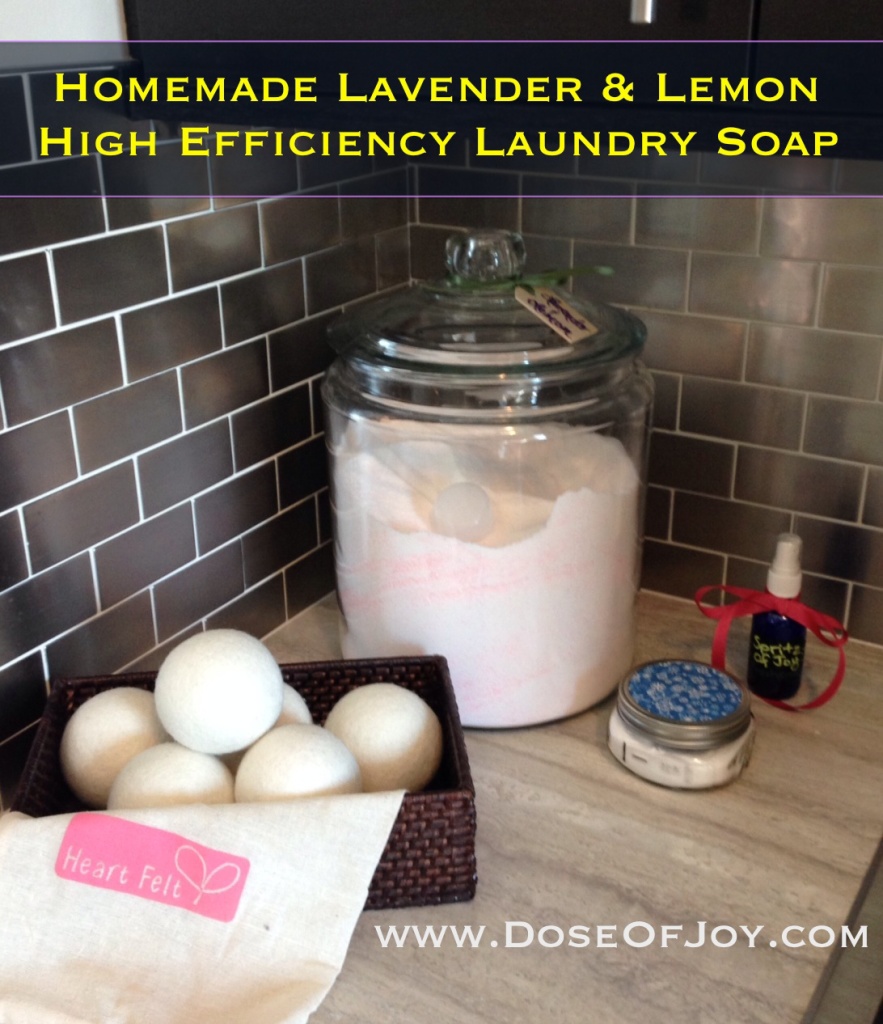 This change didn't come lightly.  We have a serious case of the Hard Water Henries out here, I'm not kidding. Before adding the water softener, I used to clean my counters with steel wool, and the only way to get the build up off fixtures was with CLR.  So you can imagine what it takes, even with a softener, to brighten our whites above the fifty shades of gray the water has left behind.
So, after a bit of research, trial, and modification, I fell in love with this recipe.  My whites are bright, our towels are fluffy and more absorbent, and the boys' colored clothes are clean and free from their stinky smells.  I cringe just thinking about the money (and chemicals) I have been sending down the drain all these years on something so simple.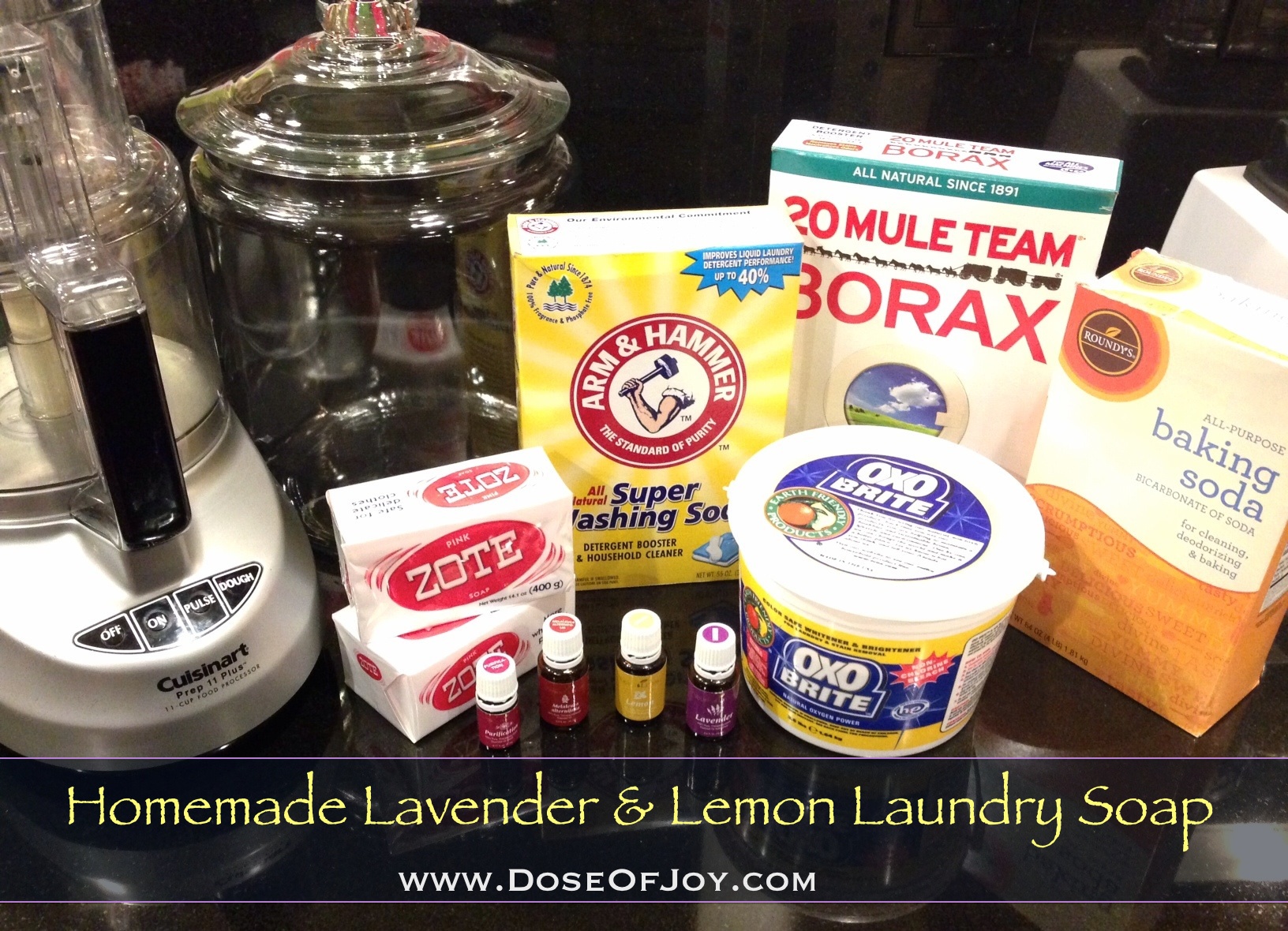 Here's the breakdown:
1 Box Arm & Hammer Baking Super Washing Soap 3 lb. 7 oz. ($3.97)
1 Box of Borax 4 lbs 12 oz. size ($3.97)
1 Box of Pure Baking Soda 4 lb. ($2.49)
1 container of Oxo Brite 3.6 lb ($9.98)
1 1/4 bars of ZOTE* Laundry Bar Soap 14.1 oz. ($0.97 x 1.25 = $1.21), store remainder for spot/pre-treating stains
1 Bar Dr. Bronner's Pure Castile Soap* ($3.49), I prefer Lavender or Citrus Orange – not pictured above.
40 drops of your favorite essential oils or blend of oils.  I used Lavender & Lemon.  You're making a LOT of soap here, so don't stress about the oil.
TOOLS: Food Processor recommended (grating wheel and fine processing blade), VERY large stainless bowl or 5gal bucket lined with thick garbage bag, cutting board, knife, large wooden or stainless spoon, 2-4 gallon glass jar for storage (mine is an Anchor Hocking from Amazon, they can also be found at Target or Wal-Mart).
Let's get started.  THE SOAP!  I know most recipes out there call for Fels Naptha, but I can't handle the smell, it was terrible.  I also love that ZOTE has very few ingredients, it takes the guesswork out.  Combined with my favorite Dr. Bronner's scent, and a bit of Essential Oils, the combination is just right.
Step 1: Before grating the bar soap, make sure you cut up the blocks in to pieces that will fit in to your food processor chute.  The soap is incredibly easy to cut, so don't worry.  It doesn't matter what order you grate the soaps in, everything will be blended up together in the end.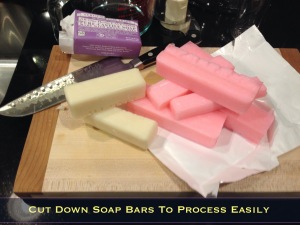 Step 2: Once the bar soaps are grated, remove all of the soap, exchange the grating wheel for the fine processing blades.  Return 1/3 of the soap to the bowl along with a small scoop of Laundry Powder.  This prevents soap from sticking to the blades. Process, and add more soap and powder as needed until the entire batch has been well processed.
Step 3: Place all ingredients in large bowl or 5gal bucket lined with a thick plastic bag.  Mix ingredients well with a spoon.  You may need to toss the ingredients well a couple of times to prevent significant layering.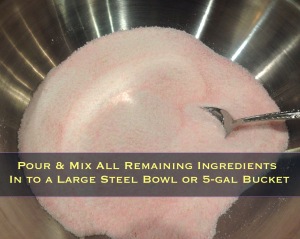 Step 4: Pour mixed ingredients in to glass jar for storage.  Scoop out 1-2Tbl to use.  I'm a laundry procrastinator, so I have to use 2Tbl almost always.  I did have to pop out my HE Wet Ingredient cup before using.  Check your manual for powder use instructions.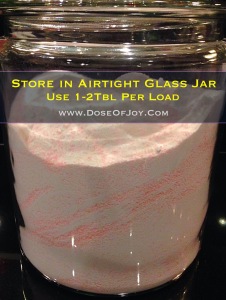 Step 5: I purchased 6 dryer balls which cut back significantly on dryer time and also helps fluff the clothes (significantly = 1/3, and since we have a gas dryer – let's say it – savings, WOOHOO!!).  You use 3 dryer balls for small-medium loads, and 6 for large – which means I always use 6.  Again, laundry procrastinator!  The first time I used them I added a few lemon & lavender oil drops to each and let them sit before tossing them in.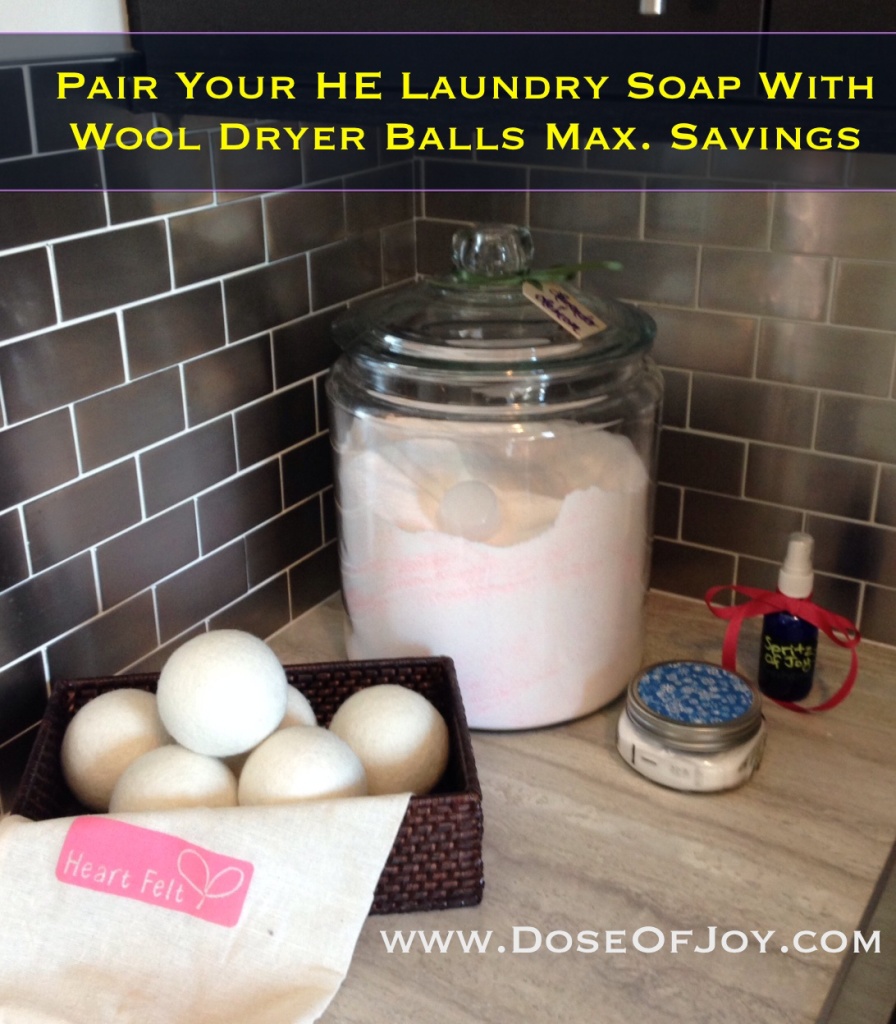 I hope you enjoy this Laundry Soap recipe as much as I have.  Feel free to leave a comment below, or send me a message through our contact page.  If you have any questions on where to purchase your essential oils, I am happy to help.