This weekend, we took a family trip to visit my husband's parents and his extended family. Cousins from Wisconsin and Seattle also flew in with their families, to join in the festivities, and make it a family reunion. We missed seeing a couple of family members, but for the most part, everyone was there. Throughout our trip, we took trips out to the local winery and brewery, but the highlight was getting a chance to see our nephew's first baby, Keegan. He is simply perfect in every way.
Here is a picture of most of us out on the Family Farm in Augusta, MO.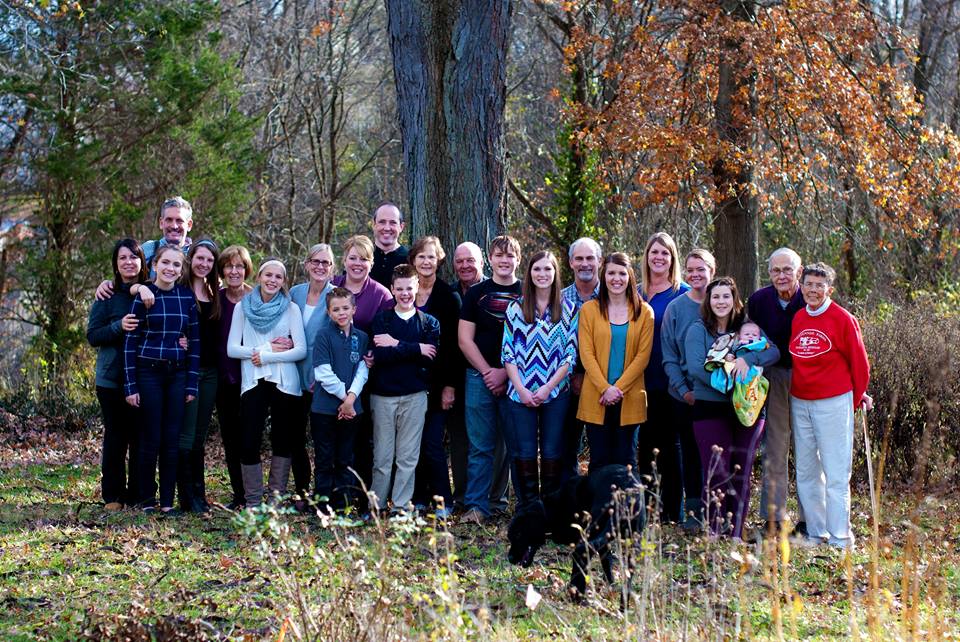 Bob & Ellen (far right), my mother and father in law, run and manage the orchards from their century+ old farm in Augusta, MO. If ever you're in the area, be sure to call to see what's in season. They have large orchards filled with various apples, peaches and berries throughout the year, and of course pumpkin season is always fun on the farm. Throughout the year, Ellen makes and sells a wide variety of preserves, and her apple butter is hands down the best I've ever had! You can contact them through their website to place orders to ship direct.
Augusta also has several wineries, shops, and bed & breakfast locations. My favorite stop in town is Kate's Coffee. The owners are so nice and accommodating to guests, and they have a large variety of fresh baked quiche's and sandwich offerings daily. Their coffee is fantastic, but just a bit more special since they serve it in a french press. After you're done there, check out the antique and home decor shop up the street. Just beautiful. You can also peek in and see the studio and work of Sam Stang, an incredible glassware artist, who features handblown work in galleries across the country.