It's that time, the mid-holiday slump.  Somewhere between Christmas and New Year's Day.  Did someone push a plate under the couch, or did my son stuff cheese and crackers in his coat pocket?  I cannot be the only mother of boys out there, am I?  Somedays, I'm just scared to check pockets.
Anyway, whatever it is, it's seriously time to Clean Up, and Clear Out!!!  I have to start by getting the smells out, and lifting the mood.  One of my favorite ways to freshen the air around the house is with my Aroma diffuser.  Unfortunately, it doesn't reach every room.  So I made up these great little bottles of room spray using my Essential Oils – which I affectionately call a "Spritz of Joy".  I set them all over the place – bedrooms, bathrooms, the front living room.  Just give it a shake and two sprays, and bring the AHHHHH back to your home.  Below I've included the base recipe I found works best, plus a couple of my favorite combinations.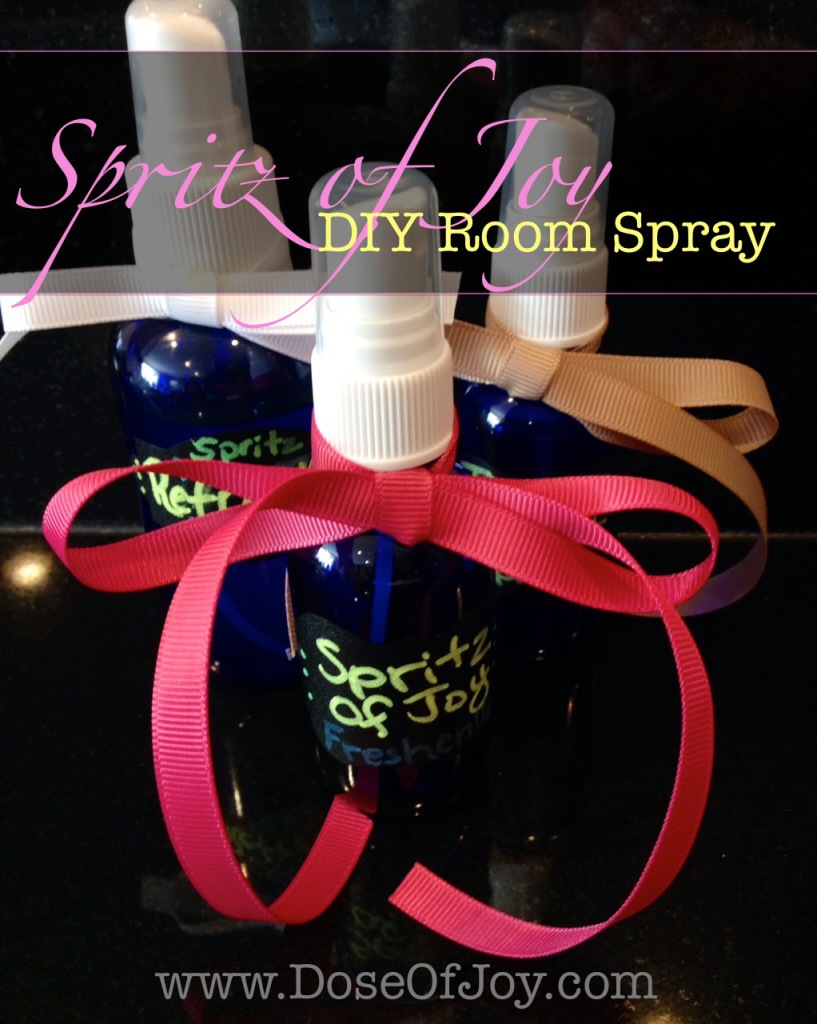 What you will need:
(1) 2oz Spray Bottle – glass recommended
1 3/4oz Water (save for the end)
1/4oz High-Proof Vodka, Optional (helps scent linger longer)
15-20 drops of your favorite Essential Oil Combination
Eye dropper or mini bottle funnel (recommended, but not required. for easy transfer)
Mix ingredients directly in to jar: Essential Oil, Vodka, then slowly add water stopping short of the lower rim.  Add cap, shake and use.
My two favorite room spray oil combinations are:
5-6-7 Freshen Up
5 Drops of Purification Essential OIl
6 Drops of Lavender Essential Oil
7 Drops of Lemon Essential Oil
Calming Room & Linen Spray
10 Drops Lavender Essential Oil
7 Drops Valor Essential Oil
Enjoy!